October 2018
I'm back!
It feels like years ago since I posted here. That's because it was. Painting slowed down when my brain developed a tumor in the frontal lobe region about 2012-2013. Among other symptoms, the tumor negatively impacted my executive functions. In due time, I could no longer balance my checkbook, got lost when I tried to go to my favorite coffee roaster here in town, and my efforts to paint looked amateurish - nothing I would sign.
In December 2017, the tumor was successfully removed using an exciting new procedure at Massachusetts General Hospital. However, the next day I developed a terrifying complication. Brain swelling. The good people at MGH got it under control, and I put my nose to the grindstone and got well. Last week, I finally signed a new painting. Yippeeeee! Victory is sweet.
The painting is "Singing in the Rain", and you can see it in the Works on Paper gallery on this website. It's of my neighbor, Sandy (a retired music teacher) teaching her granddaughters "Singing in the Rain" on a happy spring day. I know and love the little girls too. It was so much fun to do this painting. Thank you Sandy, Eleanor and Margaret.
---
July, 2015
How & Why
When people see my digital paintings the first question they always ask is how?! Just as there are myriad ways to paint with oils, acrylics, watercolor, etc., there are countless ways to use the digital medium. I like to keep it simple. Each painting starts with a photograph (always my own, which is how my oil paintings began too). I import the photo onto my "canvas" (my iPad screen) and create a simple line drawing to compose the painting.
Then I remove the photo from my digital canvas and get to work. With a hard copy of the photo in my left hand or on a table nearby, I begin adding the colors to my painting: first, a solid base layer. Then I start on the details using various brush shapes, paint density, color variations, and so on. I keep working with it until I get the results I want. When I'm satisfied, I sign it, and off we go.
Digital painting is a powerful medium and offers exciting tools. Most important to me are all the different "brushes" available. Even though you can't hold them in your hand, they are tools to pick up, release and manipulate paint - which paint brushes have always done. Only now, they're better. And just in time for me!
Due to neurological damage, I'm losing dexterity in my hands. I simply cannot manipulate the round wood sticks with fine sable hairs, bristle or synthetic hairs attached to the end like I used to do. Some of my brushes were longtime friends, and it was hard to say goodbye them. But - here's the fun part - I control the digital brushes with my index finger on the iPad touch screen! I don't use a stylus because I can't grip it. Lucky for me, finger painting is just plain fun. And to be able to do it to this degree of finish.... Wow!
As for the skinny on Cuppa, I was making coffee one winter morning in my kitchen in Stonington, just a few weeks before moving to Portland in early 2011. The sunlight poured in my window and illuminated the steam. I saw it out of the corner of my eye and grabbed my camera. I knew right away that I would paint it…. It took me four years to get up my nerve to tackle stainless steel and steam.
---
August 2014
About "Benediction"
The first time I saw the ocean look like this had to be 22 years ago.... on my first trip to Maine. The sight of the light bouncing off the water still makes my pulse quicken every time I see it. Along with a sense of wonder and excitement, it brings me a profound peace.
---
July, 2014
Holding Fast
Most everyone who knows me knows about Doc, my hearing service dog, who died in November of 2010, after being diagnosed with a brain tumor. (Think about that.) Even though he is gone, he still fills my heart and inspires me in many ways. My latest painting (which you can find in the Digital Paintings gallery of this website) is a tribute to his age and wisdom and love. The title comes from the last line of a favorite poem, written by Marie Howe about her younger brother who died of AIDS a decade or more ago. I'll share it with you below.
What the Living Do
Johnny, the kitchen sink has been clogged for days,
some utensils probably fell down there.
And the Drano won't work but smells dangerous, and
the crusty dishes have piled up
waiting for the plumber I still haven't called. This is
the everyday we spoke of.
It's winter again; the sky's a deep headstrong blue, and
the sunlight pours through
the open living room windows because the heat's on too
high in here, and I can't turn it off.
For weeks now, driving or dropping a bag of groceries
in the street, the bag breaking,
I've been thinking: This is what the living do. And
yesterday, hurrying along those
wobbly bricks in the Cambridge sidewalk, spilling my
coffee down my wrist and sleeve,
I thought it again, and again later, when buying a
hairbrush: This is it.
Parking. Slamming the car door shut in the cold. What
you called that yearning.
What you finally gave up. We want the spring to come
and the winter to pass. We want
whoever to call or not call, a letter, a kiss -- we want
more and more and then more of it.
But there are moments, walking, when I catch a
glimpse of myself in the window glass,
say, the window of the corner video store, and I'm
gripped by a cherishing so deep
for my own blowing hair, chapped face, and unbuttoned
coat that I'm speechless:
I am living. I remember you.
- Marie Howe
---
Feburary 2014
Winter Blues
Can't ski. Can't cycle. Can't go out and play in the snow. But I sure can stay home and paint! I had fun painting an amazing blue house at the corner of Winter & Spring streets. Those street signs are a good reminder in this coldest of Februaries that spring will come again. You can see Winter into Spring in the digital paintings gallery on this website. This one is available in all sizes listed on the Contact & Ordering page.
---
November, 2013
Crossing the Threshold
My deafness is no secret. However, I've been reluctant to write about mobility and dexterity challenges (which are more recent) as this website is about my art. I don't want to change the conversation. But now it's time to disclose a few things.
I have a genetic condition known as neurofibromatosis-2 which causes benign tumors to grow in my central nervous system. While I am quite healthy, the tumors and surgeries have created new challenges. Seventeen years ago when I lost my hearing, I said, "As long as I can still hold the brush to paint, I'll be okay." Was I tempting fate?
Some mild weakness in my right hand now makes it difficult to manipulate the fine brushes I've used for over 20 years to create my oil paintings. However, this doesn't mean the end of painting.... Technology is my friend. I've begun a new body of work on my iPad screen - rather than linen canvas. Instead of holding a round brush, I use my index finger to guide a digital brush. My goal is to continue to create beautiful, stirring paintings - simply in a new medium.
How does this change my work? I can paint anytime, anywhere - which is good because it means more "studio" time. I'll be more prolific. Digital painting lends itself to detail, which has always intrigued me; now I can zoom in on subjects and textures that catch my eye.
What hasn't changed? When I paint on the iPad screen, my process is much like the way I painted with oils. I do a sketch, fill in the base layer of color, then add more paint, and refine and refine and refine, building the painting up to the way that I see my subject. It's a process - both physical and emotional. I love the scenes I paint, and I do not rush them. Instead, I attend to the details, to what makes them special to me.
What's different for my customers? All new works will be offered in limited edition prints. You can see these paintings in the Digital Paintings gallery on this website, and you can read more about the printing process, longevity of the inks and quality assurance on the Contact & Ordering page.
To those people who have bought my oil paintings over the past 24 years, I can't thank you enough for your response to my work. I still have a few for sale, but new work will be on archival paper. I hope you'll continue to follow my art.
I've known for a long time that deafness contributes to my art. Now disability has opened another doorway... and shoved me through it. I'm tremendously excited about where I can go with this new way of painting.
---
March, 2013
A Winter Project
Experimenting with digital finger paintings (using the Brushes App for iPad) is risky, but fun. Each time I start one I wonder if I'll be able to do it right. Will it work? Or will it be a waste of time? My latest - Harbor Fish Market - did indeed work, and it took me nearly as long as it does to complete an oil painting. I love detail, I love color, I had fun with this. You can find it in the Digital Paintings gallery on this website. Please see the Contact page if you'd like to order a print. By the way, Harbor Fish is a real place. It's a local institution here in Portland - a happy, busy, messy place that sells the best fresh fish....
---
January, 2012
This New Year
When I was younger, the beginning of the school year always felt more like the New Year than January 1st. Perspective and sensibilities change over time, and I am happy to be starting this year with a nice mix of excitement, peace and energy. As I look out my window this snowy morning and reflect on the events that brought me to Portland, the past three years are revealed as a time with significant loss and adjustment. Such is life. It slowed down my painting, but also brought new appreciation and depth to my work, and I am grateful for that.
While the vistas in Stonington were broad, powerful and magical, I find many scenes of tenderness - an implied intimacy and a sense of dwelling - as I walk around my neighborhood here in Portland. These stories please me just as much as the epics of Stonington, and my first Portland painting is underway. Meanwhile, I'm pleased to share another new painting....
Bello Piccione is a pigeon I spied on an early morning walk in Italy seven years ago - although I waited until 2011 to paint him. I loved his colors and ownership of the crumbling window ledge. Painting him on wood panel felt right given the antiquity of the 14th century manse where he perched.
---
June, 2011
Changes

Last November my beloved Doc died.
Three weeks later my left retina detached (treatment successful, vision is fine), and a week after that I was in a head-on collision when my car skidded on ice near Stonington. 40 mph, airbags deployed, both drivers okay, both cars totaled. It was not my first collision last year, but soon led to the realization that it was time to stop driving.
The day after Doc died, I began a painting of a wonderful old barn near Penobscot. The barn leans to one side and does not look terribly safe to enter, but it is still standing: an image of endurance and dignity beneath the peeling paint. After the loss of Doc, the retina scare, and the car wreck I knew what the title would be: Peeling Paint. That is just how I felt. The life I had so carefully built in Stonington was falling apart.
Six months later I am settled in a wonderful little condo in the most beautiful historic neighborhood in Portland, Maine, and I am happy here. Beautiful gardens and fascinating architecture abound. Instead of breathing deeply of sea air on my daily walks, I enjoy the scent of mulch and warm earth, and I take many photos of these old buildings that fascinate me. I live near the Fore River and have strong light in my studio. What will I paint here? That remains to be seen, but I know this is a new chapter of my life and I will honor it with my work.
---
Late 2010
Far Away
Although I generally paint close to home, there are times when I travel and come across a compelling view. Such was the case in 2007 when my friend Mimi and I were driving along the highway between Old Faithful in Yellowstone National Park and her home in Big Sky, Montana. "Mimi! Look! Stop the car!" It was just a roadside scene of some animals grazing near a stream, but the light on the forest made it magical, enchanting, dark and deep. The painting is a triptych, titled Home on the Range. It appears randomly on the Home page, and you can see it in the Stonington Years gallery on this website. The original now hangs in my friend Mimi's home at Big Sky. All of this makes me very happy.
---
December, 2009
It is with a sigh of relief and gratitude that I add Stonington in January to my website. I've never worked as hard and long (over a year) on a painting. That time was filled with personal challenges and sorrow, but all is okay now. There is a passage from Robert Henri's fine book, The Art Spirit, first published in 1923, that seems to fit.
"He who has contemplated and has met with himself, is in a state to see the realities beyond the surfaces of his subject. Nature reveals to him, and, seeing and feeling intensely, he paints, and whether he wills it or not each brush stroke is an exact record of such as he was at the exact moment the stroke was made."
I cannot say what was in each brush stroke in this painting, but I do know that it was about effort.... and ultimately about finding a place of peace.
---
Early 2009
A Couple of Stories

While working on a large painting, which will appear on this website when it is done, I'd like to use this interval to share the stories behind 2 earlier paintings (both of which appear in the Stonington Years gallery on this website).
The first one is Sunshine. I spied this bright little house on Monhegan Island, where I traveled in 1997 to paint alone. Most of the houses on Monhegan have blue shutters. I came across this place on a morning walk and loved the yellow shutters with the daffodils and tall grasses, the old metal handrail with glint of blue paint. The painting title comes from a line in the Penelope chapter of James Joyce's "Ulysses" - "and the sun shines for you today yes".
The second is Ex Libris. This intriguing little building used to be the blacksmith shop here in Stonington. Now it is the summer home and studio of a retried college professor and his wife, who is a watercolorist and makes bookmarks. I had already decided on the painting's title when I noticed that many of the books in the window still have library tags on their spines. Ex Libris indeed! With this painting I wanted to put the back of the canvas to work too, so I listed my favorite books on a sheet of parchment paper in a wrap-line format and attached that to the back. The idea was that most of the books should not be best sellers.
---
September, 2007
Summer's End

It's five o'clock in the afternoon on Labor Day as I type this update. The sun is still bright and warm out my studio windows; soon it will segue into the golden light of sunset. Isle au Haut rests pale lavender on the horizon, and there is a feeling of peacefulness in the air. Driving our winding, hilly roads here on Deer Isle one sees red leaves already starting to peek through the heavy green canopy on the trees. Summer is coming to a close here on the coast of Maine. It's been a good summer in Stonington and I'm pleased to share two new paintings: Doc at Rest – the third in my "Doc @" series, and Summer Flowers, from a trip to Ireland 2 years ago. I have more paintings underway and will happily share them with you soon.
---
July, 2007
Recent Paintings
I'm pleased to share two new oil paintings, A Light from the East and Lloyd's Old House. Both are winter scenes close to home, so close they are a matter of yards from my studio. It's July now and cold weather seems remote, but the mixture of drama and peacefulness here in winter is worthy of witness. I hope you'll enjoy looking at these paintings as much as I enjoyed creating them.
---
February 2007
Every Picture Tells a Story

Sometimes something magical happens, something that didn't seem to come from me but that I had the pleasure of being the messenger. Sometimes I know where it came from, other times not. In this case I know exactly where it came from. And it's who rather than where. Last year I did two small paintings of my hearing service dog, Doc, as studies for a larger painting for Richard, a good friend who loves Doc as much as I do. I was so happy with the small paintings that I put Doc up on the stool in front of my easel so that he too could see how fine he looked, and I snapped a photo of him sitting there looking at one of the studies and out the window nearby. A few days later, I E-mailed photos of the studies to Richard, suggesting that if he liked one of them I could expand on it to do a larger painting for him, and I included the photo of Doc at my easel – as a joke....
....That evening Richard sent his response: Paint THAT. My reaction: Oh no! I can't do that. It just wouldn't work. That's too complicated. Okay, I won't worry about it. I'll just go to sleep and tomorrow Richard will come to his senses about this.
The next morning there were three more E-mails from Richard, telling me why I should paint this. He was persuasive, and I am so very grateful to him because I had a marvelous time painting my dog, my view, my studio - all objects of my love - for a dear friend who encouraged me to reach beyond myself with this new painting, Considering the View. That's collaboration of the best kind.
---
June, 2006
A New Body of Work… the body being a dog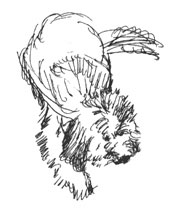 It's time. "Doc", my hearing service dog, is 9 years old and going strong, but it's time for me to test my skills at capturing his personality on canvas. So a series of small paintings has begun. The first two are Doc at Home and Doc at Sea. Painting him is just plain fun. And continuing my love affair with Maine, you'll also find a new landscape painting, Sunrise from Russ Hill - the morning counterpart to Nautical Twilight.
---
March 2006
Think Spring
March already? Apart from one memorable day a month or more ago when the wind howled across the harbor at 66 mph, winter was relatively mild this year on the coast of Maine. Here in my studio on the coldest days, I was able to imagine springtime as I put the finishing touches on Nora's Garden. The setting is a beautiful, free-spirited garden a block up the street. But it is much more than just a pretty garden to me; it is the home and labor of love to two dear friends, who include me in their lives. I've had too many good times at their house to count, and I walk my dog by their garden daily. Painting is personal. When I can paint a place that I love for people I love, it is new way to experience something that is already known. My paintings are not memory paintings in the traditional use of the term. But memory and reflection and thoughts of appreciation meander through my mind as I paint. It's a nice feeling.
---
January 2006
Musings on a January Day

Wintertime is mercifully quiet here on the coast of Maine. Looking out my studio window at the bare trees, the gray harbor – almost empty of the lobster boats that crowd it in the summer, the tiny islands beyond, and Isle Au Haut etched sharply against a cold, pale sky, is a time of appreciation and reflection. It leads to a nice state of mind for painting. The season may be slow socially and in terms of activity, but the solitude is welcome and rich with thoughts about paintings underway and ideas for new works.
I don't talk much about being a deaf artist as I certainly don't want to be labeled as a "Deaf Artist". I'm an artist. If my work speaks to you, it doesn't matter if I'm deaf, hearing, short, tall, male, female, etc. Yet - because I am deaf - my art is the most important communication tool I've got. It's not so much about what I want to say as it's about the ability to receive. When others respond to my work, and especially when I am there to see their reactions – the change in their breathing, the expressions on their faces, the smiles of recognition or looks of a happy discovery – that is the finest communication I could ask for.
---